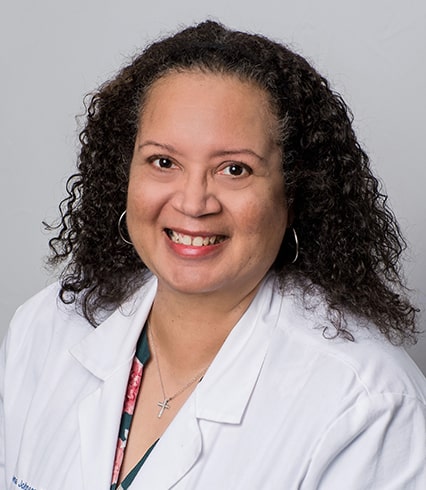 Adrena Johnson, PA-C
Adrena graduated from the Hahnemann Physician Assistant Program in Philadelphia, Pa. in 1983. After spending the first five years of her career in internal medicine, she joined the Sickle Cell program at University of North Carolina. She continued her career in hematology with Sickle Cell programs at Duke University and the University of Alabama. In 1996, she accepted and served as the Associate Director of Clinical Service at UAB until 2002.
Returning her focus to clinical practice, Adrena returned to North Carolina where she joined the oncology team at Cone Health. Here she provided care to medical oncology patients and served as a resource and preceptor for staff in both inpatient and outpatient arenas. She has led lectures regarding drug therapy and toxicity management throughout her career.
In 2016, Adrena joined Cancer Care of WNC, PA, collaborating with Dr. Shantae Lucas, and is now at Messino Cancer Centers. Moving to Asheville, N.C. allowed Adrena to combine her passion for caring for oncology patients and her love of the mountains. In her spare time Adrena enjoys spending time with her family, cooking, sewing, knitting and other needle arts.