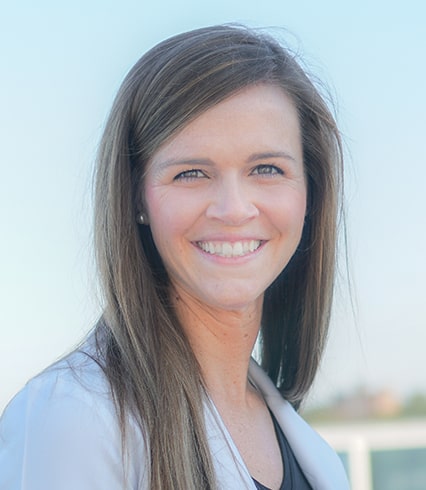 Sarah Pearce, DNP, MSN, FNP-C
Sarah completed a Bachelor of Science in Nursing at the University of North Carolina in 2012. During her undergraduate study, she had the opportunity to practice as a nurse extern in surgical oncology at Wake Forest Baptist Health. During this experience, she developed a passion for oncology patients and a desire to pursue a career in the specialty. She subsequently began her nursing career caring for patients with various types of malignancies, with a focus on hematologic cancers and bone marrow transplant. While working on the adult bone marrow transplant unit, Sarah returned to school to further her nursing career.
In 2015, Sarah graduated with a Master of Science in Nursing and Family Nurse Practitioner certificate from Duke University. Her training offered an additional focus in oncology with a notable emphasis on breast and gastrointestinal malignancies. Following graduation, she began her career at an oncology practice in Mooresville, N.C. During that time, she completed her Doctor of Nursing Practice at Duke University. Understanding the importance of patient education as a foundation for optimizing oncologic care and promoting patient advocacy, her doctorate capstone centered on educational strategies for patients undergoing hematopoietic stem cell transplant.
In 2017, Sarah and her husband moved to Asheville where she joined Cancer Care of WNC. For the first two years of practice, she provided focused care to the breast cancer population supporting multiple medical oncologists and providing survivorship care. In January 2020, she elected to transition her practice to Messino Cancer Centers in collaborative practice with Dr. Hiromi Terawaki.
Over her career, Sarah has received multiple scholarships and is a member of Sigma Theta Tau International. She serves as Co-Chair for the Community Oncology Alliance Advanced Practitioner Provider Network.
In her spare time, Sarah enjoys running, crafting, and spending time with her family, including her two dogs.