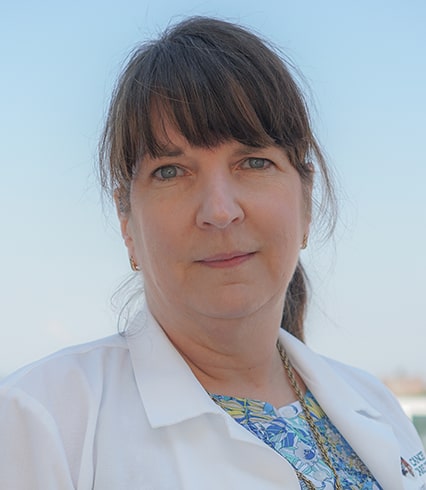 Donna J. Gibson, MSNEd, FNP-C
In 1987, Donna graduated from Western Piedmont Community College with an Associate in Applied Science Nursing. She worked at the Brian Center in Spruce Pine as a staff RN and quickly advanced to Director of Nursing. In 1991, she accepted a position with Spruce Pine Community Hospital where she worked for 14 years.
She obtained certifications from the Emergency Nurses Association as a Certified Emergency Nurse as a Mobile Intensive Care Nurse.  Donna then transferred to the outpatient setting as an infusion/chemotherapy nurse.
Donna continued her education to complete a Bachelor of Science in Nursing from Lees McRae College in 2001 and a Master of Science in Nursing with a focus on education from University of North Carolina at Greensboro.
In March of 2005, Donna accepted a position at Cancer Care of WNC while completing a post graduate certificate Family Nurse Practitioner from Western Carolina University. Donna practices in collaboration with Dr. Martin Palmeri at Messino Cancer Centers. She is recognized by her peers for her keen knowledge of unique diseases.
In her spare time, Donna enjoys shopping for shoes and applying her intellect to virtual competitions.