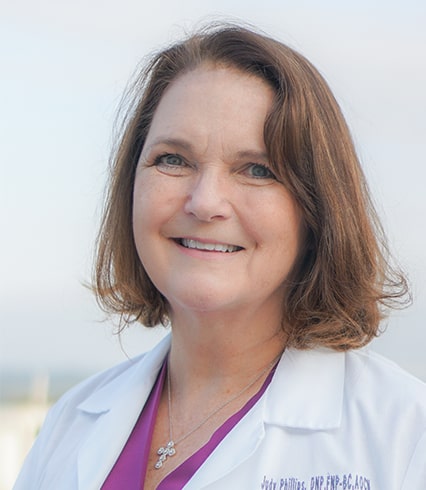 Judy Phillips, DNP, FNP-BC, AOCN, CCRN
Judy graduated from Georgia Baptist School of Nursing with honors in 1984. She began her career in Florida at Manatee Memorial Hospital in critical care, becoming a Certified Critical Care RN. She advanced to Nurse Manager in the critical care setting. Quickly advancing her career, Judy accepted a director role at Desoto Memorial Hospital, overseeing several departments and was named Employee of the Year.
In 1994, Judy moved to West Palm Beach, Fla. where she was director of two large critical care units and the Emergency Room. During this tenure, she completed a bachelor's degree in nursing at Florida Atlantic University with honors and was named manager of the year. Moving with her family to Florence, South Carolina, Judy accepted a position as director of multiple intensive care units and pediatrics. During this time, she opened an open-heart unit and was named Hall of Fame Employee.
In 2000, she obtained a master's degree in nursing and Family Nurse Practitioner Certification from the Medical University of South Carolina. She transitioned to orthopedics and accepted the role of Director of Clinical Services and served as a first assistant in surgery.
Judy moved to Asheville, N.C. and accepted a position as a nurse practitioner at Cancer Care of WNC, in January 2001. She quickly recognized her passion for oncology and obtained certification as an Advanced Oncology Nurse. She was also named Oncology Nurse of the Year by the local chapter of the Oncology Nursing Society. It was also during this time that Judy was awarded the "Clinical Excellence Award" as alumni of Mercer University/Georgia Baptist School of Nursing. Judy works in the triage clinic, outpatient setting at Messino Cancer Centers with Dr. Shantae Lucas and Dr. Trevor Austin.