Messino Cancer Centers and American Oncology Network Celebrate Appointment of Local Physician to the NC Advisory Committee on Cancer Coordination and Control
Local medical oncologist Rachel E. Raab, MD, will serve on the committee for the next four years.
ASHEVILLE, N.C., October 12, 2023 – Messino Cancer Centers and American Oncology Network (AON) (Nasdaq:AONC) are pleased to announce that Rachel E. Raab, MD, has been appointed by Governor Roy Cooper to the North Carolina Advisory Committee on Cancer Coordination and Control, effective September 8.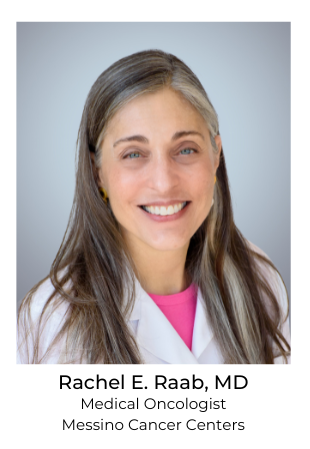 Dr. Raab is a Board-certified medical oncologist at community oncology practice Messino Cancer Centers. She has experience treating patients with various cancer types but has a special interest and expertise in breast and gynecologic cancers.
She has been a practicing provider in the Asheville area since June 2015. She is an active member of the American Society of Clinical Oncology and the North Carolina Medical Society. Dr. Raab received her medical degree from East Carolina University and then completed a hematology and oncology residency and fellowship at Albert Einstein College of Medicine, Montefiore Medical Center.
"I am honored and grateful to be appointed to this committee," said Raab. "The committee is dedicated to improving cancer care in the state as well as access to high-quality care and services to improve the mortality rate. I have dedicated my career to patient care, ensuring my patients receive the care they need at the right time. I look forward to collaborating with other like-minded healthcare leaders who sit on the committee and to collectively advance cancer care in North Carolina."
According to the North Carolina Advisory Committee on Care Coordination and Control website, their mission is to "facilitate the reduction of cancer incidence and mortality for all North Carolinians, enhance statewide access to quality treatment and support services, and maximize the quality of life for all North Carolina cancer survivors, patients, and their loved ones through educating and advising government officials, policy makers, public and private organizations, and the public." Appointed members serve a four-year term, and the committee meets twice a year.
"We are excited to hear of Dr. Raab's appointment to this prestigious and important committee," said AON Chief Medical Officer Stephen "Fred" Divers, MD. "Improving cancer care as well as access to these critical treatments requires a collaborative approach of thoughtful healthcare leaders. This committee is designed to do just that, and we are excited that a physician in our network has been recognized to serve on it. Dr. Raab's expertise and experience will provide value to the committee and community, and I look forward to her contributions over the next four years."
For more information about AON, visit www.aoncology.com. For more information about Messino Cancer Centers, visit messinocancercenters.com.
###
About American Oncology Network
American Oncology Network (AON) (Nasdaq: AONC) is an alliance of physicians and seasoned healthcare leaders partnering to ensure the long-term success of community oncology and other specialties. Launched in 2018, the rapidly expanding AON network represents 109 physicians and 96 nurse practitioners and physician assistants practicing across 19 states. The executive management team of AON encompasses more than four decades of oncology practice management experience, enabling physicians to focus on what matters most — providing the highest quality care for patients.
The organization provides unique and comprehensive protocols for managing administrative procedures and enhancing ancillary services for its affiliates. AON is able to aggregate volume and attain economies of scale, as it guides its member physicians and practices through the transition to value-based reimbursement models that improve the patient experience and help to reduce the per-capita cost of cancer care.
AON also provides a unique model of physician-led, community-based oncology management. With services such as a centralized specialty pharmacy, diagnostics, pathology, fully integrated electronic medical records, a care management team and a variety of financial assistance programs, an alliance with AON ensures that patients' experiences are at the very pinnacle of cancer care today. Learn more at aoncology.com.
About Messino Cancer Centers
Messino Cancer Centers (MCC) provides treatment for adult patients diagnosed with all types of cancer and blood disorders. Messino Cancer Centers is grounded in the Western North Carolina region and devoted to providing personalized care of the highest quality to patients in community settings, close to where they live and work and where their loved ones are close by. We are proud of our 30-year history of providing the highest quality cancer treatment that is based on research and focused on the whole person.
Contact for more information:
Caroline Hewitt, Vice President of Marketing
American Oncology Network, LLC
Caroline.Hewitt@AONcology.com